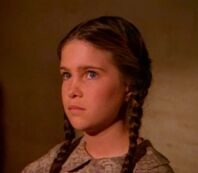 Carrie Ingalls
was the third daughter of
Caroline
and
Charles Ingalls
.
Caroline Ingalls (mother)
Charles Ingalls (father)

Mary Ingalls Kendall (sister)
Laura Ingalls Wilder (sister)
Charles Ingalls Jr. (brother,deceased)
Grace Ingalls (sister)
Almanzo Wilder (brother-in-law)
Adam Kendall (brother-in-law)

Un-named Kendall (nephew,deceased,Mary's son)
Adam Kendall Jr. (nephew, deceased, Mary's son)
Rose Wilder (nieces, Laura's daughter)
Unnamed child (nephew, deceased Laura's son)
Carrie was born Caroline Celestia Ingalls in the big woods of Wisconsin. Carrie was always the baby of the family until Grace was born. She never she never seemed to talk much. She became very close to her adopted sister Cassnadra Cooper Ingalls.
Childhood
Edit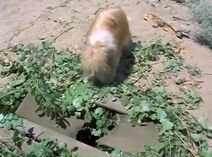 When the Ingalls came to Walnut Grove she stayed with Ma until she went to school because she was to young. When mineshaft Carrie,
Mary
, and
Laura
were bug hunting she fell into a and wasn't found until late at night. Sometimes Carrie was shown to have a wild imagination. She once dreamed that she had a fairy godsister named Alyssa that looked just like her, and she believed
Alyssa
was real. Later, her Pa convinced her that Alyssa was in her imagination, and she made up the character out of loneliness.
Carrie, unlike her brothers and sisters, seemed to grow up slowly. She always wanted to share rooms with Laura. When the Ingalls family moved to Winoka, Carrie excitedly exclaims, "I get to sleep with Laura!"