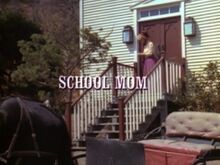 When Ms. Beadle is injured,
Caroline Ingalls
takes over as a substitute in Walnut Grove. During that time an uneducated youth named
Abel
enrolls.
Abel
is relentlessly teased because he is illiterate. The children teased him calling him
Dumb Abel
Eventually, the harassment and
Mrs. Oleson
's meddling become too much, and Caroline orders the school closed. Caroline then takes it upon herself to teach Abel to read.